Ozone Therapy

We offer the following ozone therapies
Major autohemotherapy (MAH), minor autohemotherapy (mah), ozonated saline, water, and ice cubes, Prolozone, Chezone, vaginal insufflation, rectal insufflation, ear insufflations, limb bagging/wound healing, sinus insufflation, neural therapy, pelvic injections, cosmetic ozone and cosmetic PRP, hair loss treatments, wart treatment, trigger finger treatments, scar therapy, varicose vein treatment, adipose and cellulite reduction.
Here are some amazing updates on cosmetic ozone.  If you don't want to use Botox but you would like to improve the look and texture of your skin, call for an appointment to discuss treatment options!
Please find information about Ozone Therapy under our Services Offered page or CLICK HERE.
Forty year old female with a partially separated shoulder. Patient had pain and weakness with weight lifting. No improvement for 6 months. Patient then had 2 prolozone injections with mild improvement.  After another 6 months (with no visible change) the patient had 3 treatments utilizing a specific types of systemic ozone that is only available at our clinic in Oregon.  Within 1 month, her shoulder has returned to normal.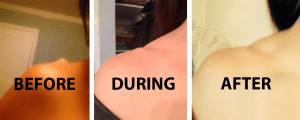 Patient testimonial, 20 year old female:  "The daily, chronic back pain I had for 5 years is completely gone.  My ankle pain is completely gone.  My eczema is 100% resolved!"
Patient testimonial, 60 year old female:  "After 3 systemic treatments, my fibromyalgia pain is 100% gone.  This is incredible!  I have suffered for 20 years."
Patient Testimonial, 75 year old female: "My eye doctor wants to know what I have been doing.  My macular degeneration has not worsened and it is starting to improve!"
Patient Testimonial, 55 year old female:  "My herpes outbreaks heal much faster with your topical ozonated olive oil."
Patient Testimonial, 48 year old female:  "My tooth sensitivity is gone since the topical ozone treatments I had done."
Patient testimonial, 17 year old wth chronic bronchitis:  "My lung function is back to normal with ozone therapy after 4 rounds of antibiotics did not work.  My acne is gone now too!"
Patient testimonial, 60 year old female with Sjogren's:  "My joint pain is significantly better.  My dry mouth is better.  My kidney pain is gone.  My energy is much better!"
Welcome to the amazing world of ozone therapy!  Medical ozone can have benefits ranging from antimicrobial, antiviral, immune modulating, decreasing plaque formation (cardiovascular improvements), improvements in diabetes, macular degeneration, joint disease, anti-aging, cellulite reduction, decreasing and improving hair loss and cosmetic enhancement.  
Office Hours
Mon-Fri: 9:00 AM – 5:00 PM
Saturday: By Appointment
Sunday: Closed
Contact Us
Address: 470 6th St, Suite C, Lake Oswego, OR 97034
Telephone: 503-505-9806
Fax: 503-505-9807